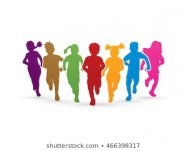 The second trimester comes to a close this week as does the month of February.  Please be sure to make your Jog-A-Thon pledge as we depend on your contributions to fund important programs and events such as BRAINSTORM!  This week the PTA is providing assemblies for all students called Bubble Mania - thank you in advance for this program!
Here is our week:
Monday               Primary and upper grade music
                                 IPSF Celebration honoring Eastshore and Kelly Duncan
Tuesday              Bubble Mania Assemblies
                                 ACE Classes
                                 5th Grade Girl Talk
Wednesday        Discovery Science for Kindergarten
Thursday            Upper Grade Music   
                                  KROC Practice
                                  Kindergarten Round Up: 6:00 p.m. in the MPR                          
Friday                   BRAINSTORM 
                                  End of Trimester Two
                                  Online Enrollment opens
We are looking for a community member who is skilled at creating balloon arches!  Please contact Mrs. Kadam at lisakadam@iusd.org if you or someone you know possesses this talent as we need an arch for the 40th Anniversary Celebration.
Have a fantastic week!